Description
• Blended with only 100% natural oils. A natural and effective solution.
• Contains NO harsh chemicals which can cause damage to hooves.
• Penetrates deep into the hoof preventing hooves from becoming dry and split or too wet and soft.
• Stops cracks and splits by creating a solid hoof wall to withstand the demands of every day environments and workload.
• Can be applied to entire foot including coronet band, frog / sole, and bulbs of heel.
• Easy brush-on application: Simply apply 2 – 3 times weekly on healthy hooves or more often as needed. See healthier hooves in just TWO weeks.
• Satisfaction guaranteed or your money back!
BONUS: Hoof Pro is not temperature sensitive. Extreme heat or cold temperatures do not effect its consistency. No more frozen hoof dressing!
For Wholesale Purchase please Contact Us
Before and After
This horse was left untrimmed and not properly cared for for a number of months. With appropriate farrier care and Hoof Pro applied several times weekly, you can see the transformation in just 10 months!
Testimonials
"Last year when you introduced me to Hoof-Pro, I was concerned by the condition of my "easy keeper" Palamino who does not need more to eat daily! His hooves were as bad as any I have ever seen with cracks nearly to the coronet bands on all 4 hooves and various feed supplement powders were not doing the job by itself. Using Hoof-Pro plus the supplement has been miraculous! He now has solid, strong, healthy hooves for the first time in his 5 year old life. I have been applying it liberally several times per week and giving him a reduced amount of supplement at the same time. I only wish I had taken before and after pictures. I now use Hoof-Pro on all the horses and would recommend it to anyone."
– Larry Hilmoe, President Tennessee Horse Council
"Thank you so much for your help through this 2 year old in training season with your Hoof-Pro Hoof Paint. As you know, I am fortunate to work a lot of the 2 year olds in training in Ocala.These horses are under tremendous stress to maintain a schedule to reach specific sales. Your product has been invaluable in maintaining hoof health on a number of these. My clients have been very pleased with the results. These results have been especially apparent due to the severe drought this year in Florida as the hoof paint greatly aids in maintaining proper foot moisture. Thank you again for your assistance!"
– Dr. William Russell, DVM Peterson & Smith Equine Hospital
"I have been in the horse industry for 32 years and have tried most of the hoof dressings on the market. Jeff Stubblefield's Hoof-Pro has proved to be superior to all. The health of my horses hooves has greatly improved. I won't use anything else! We own a carriage service. The pavement is a true test to moisture and cracking. Hoof-Pro keeps the horse's hooves in excellent condition. It has helped repair dryness, grow a healthier hoof, and keep it in great condition. Thank you for a great product!"
– Kathleen Kerr, Nashville Carriage Service
"I have used your products on several horses with different types of hoof problems, ranging from simple hoof wall cracks, to severe hoof and sole damage. All cases that I have been monitoring improved greatly and my clients seem to love the easy use of your products. These horses are now sound in the ring and will soon be under saddle again very soon. I personally like that all of your products are natural and can be applied to any area of the hoof without worry. Your products, including the Hoof Pro, Best Secret, and Sole Complete are easy to apply and I feel very comfortable recommending them to clients. It is good to see products on the market that work effectively and help to serve the equine industry. I will be ordering more in the near future for the clinic and will always keep a stock on the truck for use in field."
– Dr. Milt April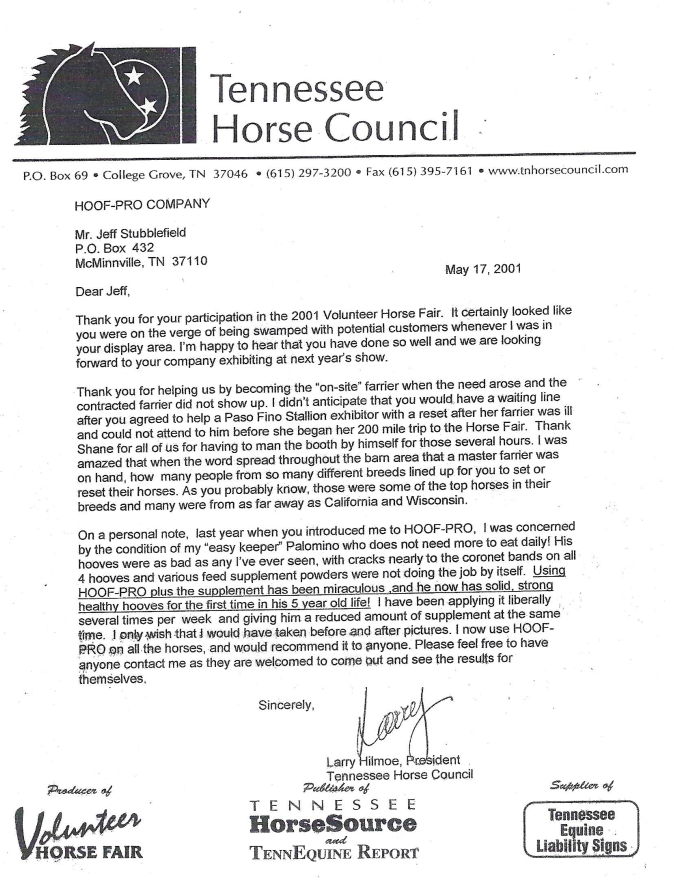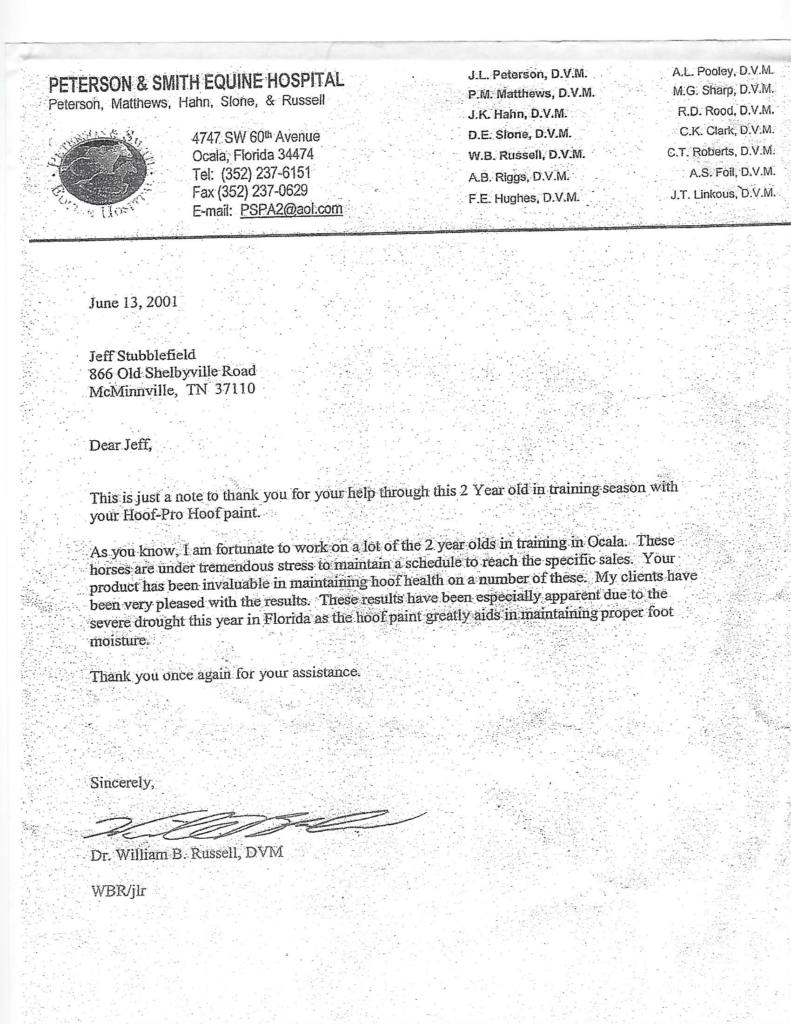 The Hoof Pro Story
Nearly 35 years ago, a young farrier in Tennessee was trying every off the shelf product available at that time to help his customers take excellent care of their horse's feet. Time after time, it seemed like no product was really making a difference. Frustrated by the lack of results, he consulted with a well known Equine Veterinarian, and together they began testing their own formulations. Soon after the testing began, the results were obvious…each horse it was used on showed improvement in some way. Since then, the formula has continued to improve to contain the finest ingredients to produce big results in your hoofcare routine.
Horsepeople from every discipline all seem to say the same thing about 'Hoof Pro'…"If you use it, it will work!"
Echo Ranch Products is a family owned business based out of Mcminnville, Tennessee. Since it began over 30 years ago, it has come a long way. From the early days of hand mixing and pouring each product into containers to give to local customers, to now being able to package and sell our natural products to all 50 states and beyond, we are proud of our business.
Since our humble beginnings, Echo Ranch Products has been committed to formulating and distributing only the highest quality, all natural equine products available. Our commitment to quality is second to none, and we are constantly striving to improve and create even better products to better serve the equine industry. We hope that you will try each product and see the difference that each makes in your animals.
All Echo Ranch Products are American made, all natural and they WORK. We are a trustworthy provider of natural horse hoof care products and hoof care treatment.
We would love for you to find out what so many equine professionals are learning… that Echo Ranch Products' line of products are not only natural, they actually work! So, try it out today and see the difference that natural products make for you and your horse!
Trusted By The Pros
Our products were developed by a master farrier and have been tested and used by professional horse people and world champion riders in nearly every discipline for many years.
Experience
For over 30 years, Echo Ranch Products have been committed to formulating and distributing only the highest quality, all natural equine products available. Created and still used by a master farrier.
Satisfaction Guaranteed
Our commitment to quality is second to none, and we are constantly striving to improve and create even better products to better serve the equine industry. You will start seeing healthier hooves in just TWO weeks! Satisfaction guaranteed or your money back!