Before & After
Do you need new and natural hoof care products for your horses? Look no further – Echo Ranch Products is here!
Hoof Pro
Penetrates deep into the hoof preventing hooves from becoming dry and split or too wet and soft.
Best Secret
This naturally soothing, all natural, non-toxic formula encourages rapid growth of healthy new tissue.
Sole Complete
Contains natural ingredients to fight and treat infections such as thrush, abscesses, as well as whiteline disease.
"This horse had a large surgical incision in his side. It was a large wound that seemed like it would never heal. After trying basically every topical medication available both off the shelf and from the vets, I was introduced to 'Best Secret' by a friend. Having nothing to lose, I took a chance and started using it. I can honestly say I was astonished by the results. I'm so glad I took pictures of the healing process. Day one the wound was open and draining. By day five the wound had quit draining and was already beginning to heal together. By the tenth day, the wound was healed over and hair was returning to the skin. Today you can't even tell there was ever a scratch there. I have to say I have never seen a wound product work faster or better than Best Secret. Try it on any wound you may encounter, and you will definitely see results." -Evan-Horse Trainer of 25 years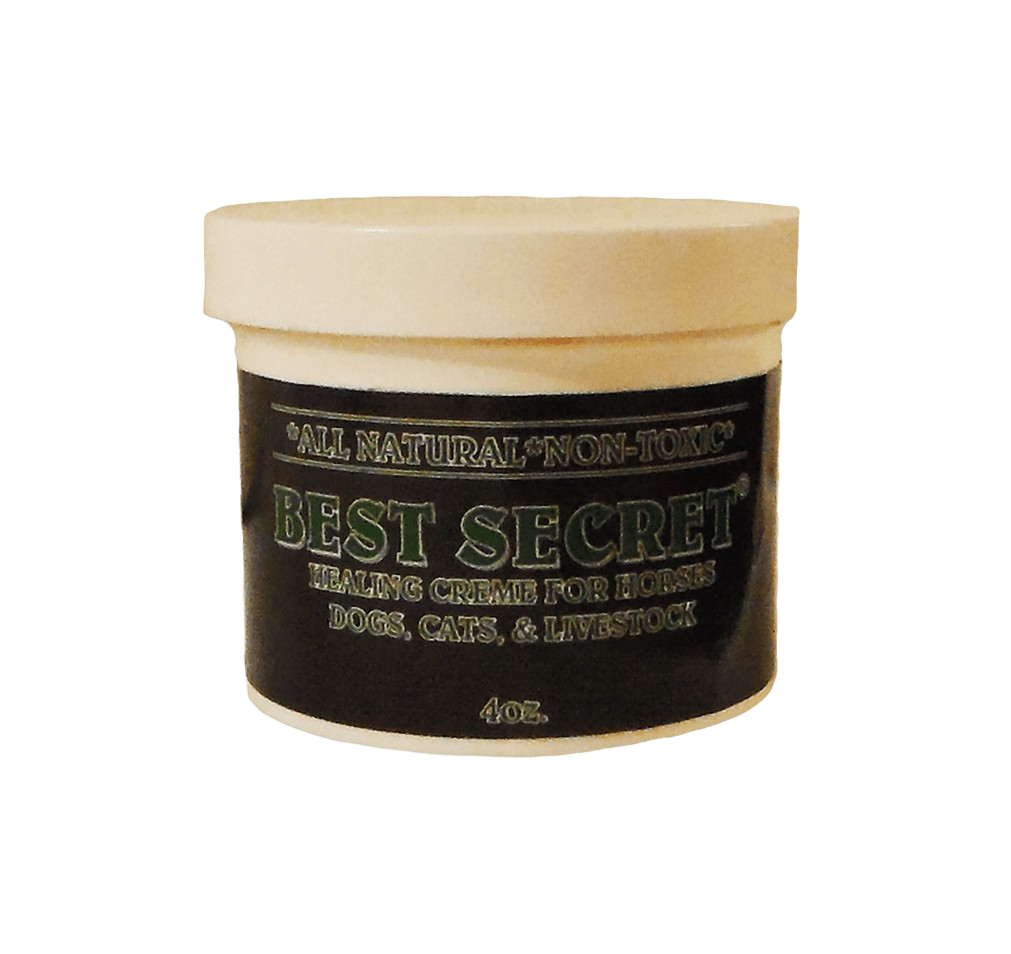 This is a rescue horse that came in with some nasty wounds on his left hind leg. He had a deep gash, and another wound that had some proud flesh already set up. It smelled of infection and we were not sure that it would ever heal, and it if did we were sure it would leave a scar. We washed the wounds once to remove all of the stuck on debris, and started applying 'Best Secret" once daily. It was not long before we started seeing results. In about 20 days, the large gash on top had healed completely and the lower wound had shrunk and the proud flesh was basically all gone. He went on to make a full recovery and found an amazing home. Thanks to Best Secret for helping us save the horse. We will always keep a jar around for use in the future.
This horse had a nasty encounter with a barbed wire fence. She was hung in the fence and sustained severe injuries. The transformation is from August 24, 2013 to April 2, 2014.